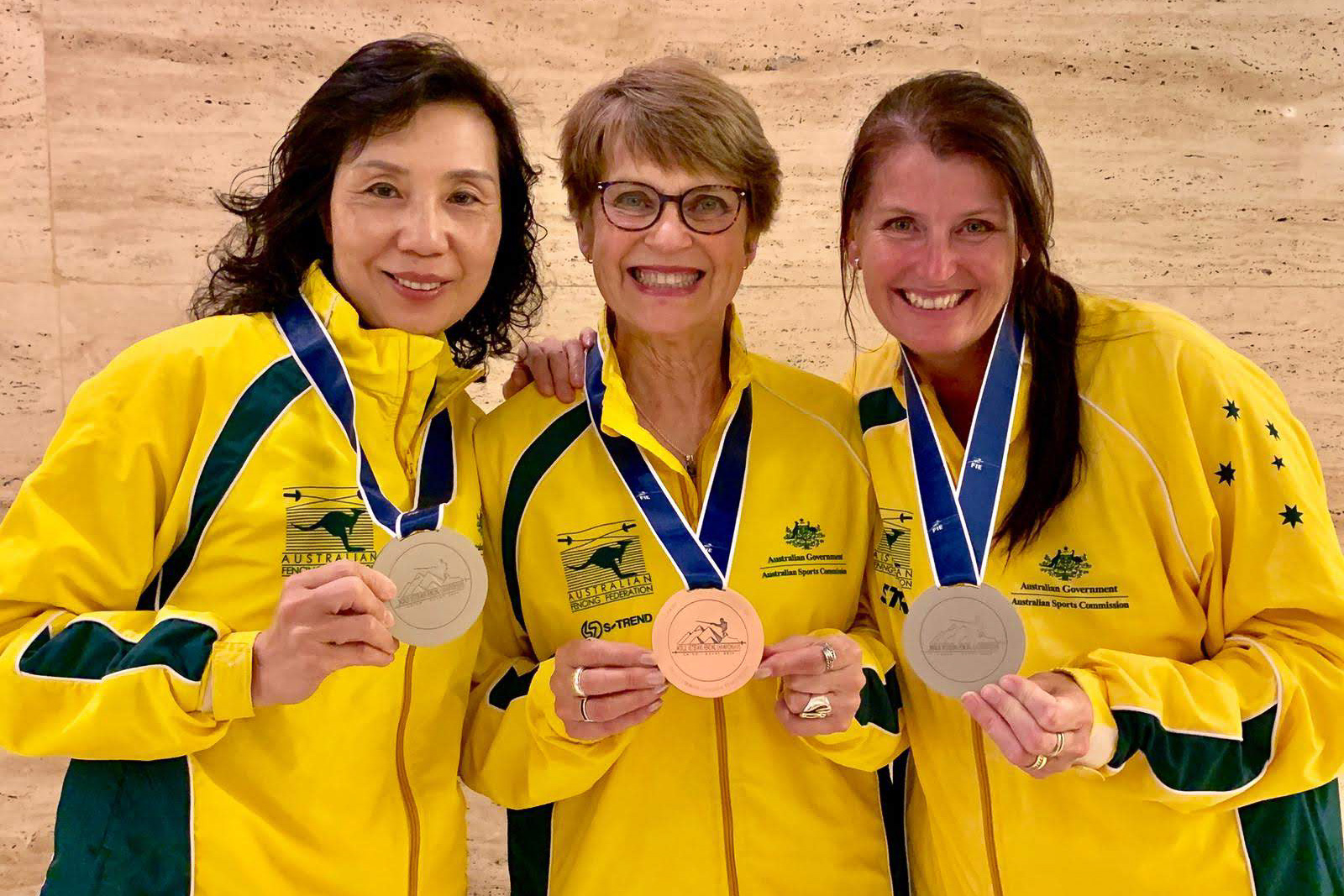 Veterans taste victory at World Championships in Cairo
Australian veterans claimed one gold, two silver and a bronze medal at the World Veteran Fencing Championships in Cairo, Egypt this week, finishing in ninth place on the medal table at the tournament's end.
Richard Purdie posted the best result with gold in the Men's Epee 70+ event. Richard secured a clean sweep in pools to rank third and earn a bye into the T32. He defeated DZHANTIMIROV (RUS) 10-3 then PAAKKANEN (FIN) 10-6 and MUNSTER (GER) 10-5 to reach the semi finals. Richard continued to dominate, defeating ROBERT (FRA) 10-7 before hanging on for a one-point victory against GOOSSENS (USA) 10-9.
With her silver in the Women's Sabre 60+ event, Min Yi Du was the first Australian to reach the podium. Competing on day one of the tournament, Min Yi earned a bye into the T16 with a 5V1D pools performance, then posted victories over ALBINI (ITA) 10-5, RUNYAN (USA) 10-4 and EYRE (USA) 10-8 before losing the final against MAZOROL (USA) 10-4.
Abby Nutt continued the trend with silver in the Women's Epee 50+ event. Abby launched her offensive from equal 8th position following a 5V1D pools performance. She earned a bye into the T32 where she defeated SHIN (JPN) 10-4 followed by PAGNY (FRA) 10-6 in the T16. Abby then dismissed ALLES (GER) 10-6 before a narrow 9-8 victory over Sweden's BJORK to make it into the final. TANZMEISTER (AUT) proved too strong in the last match of the day, however, emerging victorious 10-5.
Coraine Sopru rounded the medal count up to an even four with bronze in the Women's Epee 70+ event. Coraine posted 4V1D in pools to rank 6th and earn a bye into the T16, where an all-Aussie match-up resulted in a one-point victory for Coraine against teammate Jane Allardice 8-7. Coraine went on to upset third-ranked EIRITZ (SWE) 10-8 for a semi-final berth, where she lost narrowly to UFF (FRA) 10-8.
For a full round up of Australian results see the daily summaries posted to the AFF Facebook page or visit the tournament website here.
Never miss an announcement
Subscribe to receive AFF news via email