As fencers develop their skills and gain confidence they may wish to test themselves in international competitions.
Because every athlete's development path will vary, fencers should discuss overseas competitions with their coach to determine the most suitable options.
This page outlines opportunities for overseas fencing with related selection processes, nomination and entry requirements. In some instances Australian ranking points can be earned through overseas competitions.
To assist Australian fencers experience international competition in a supported team environment, the AFF also runs regular age and weapon-specific overseas tours which generally include training with an overseas club and competition experience.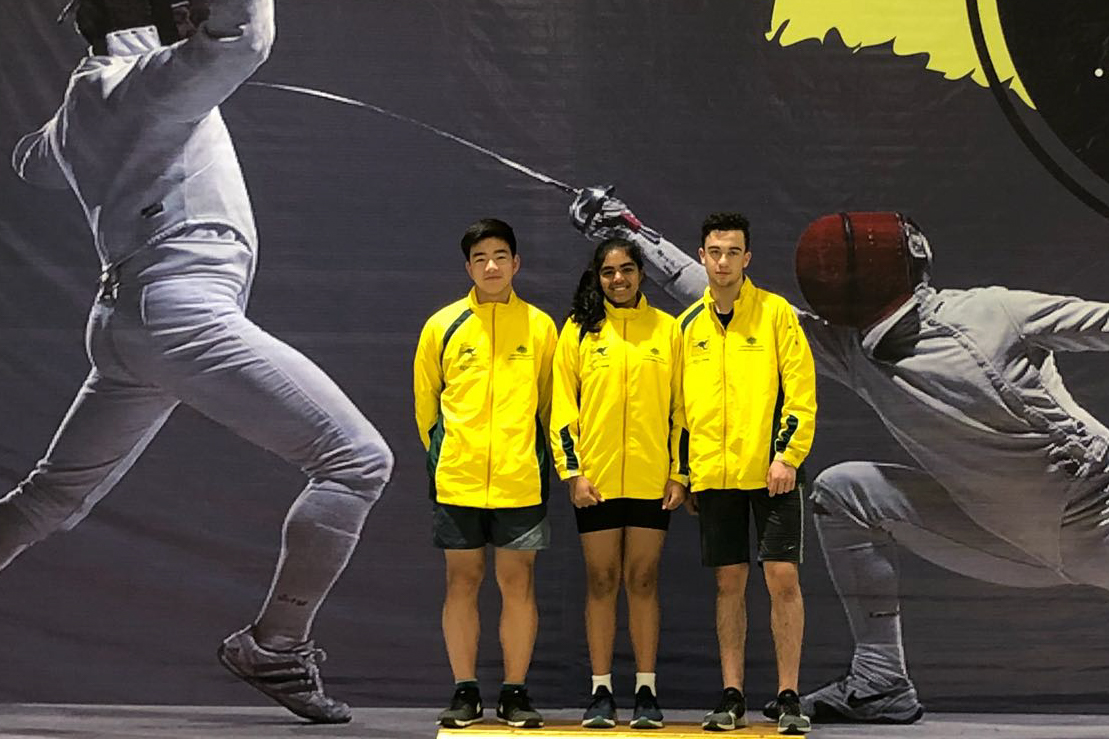 Tournaments where Australia is invited
World Championships (open and age groups)

Asian Zone Championships (open and age groups)

Universiade

Commonwealth Championships

Oceania Championships
---
Calls for nominations will be published on the AFF website approximately four months prior to the event date.  Nominations will go through a selection process, most commonly according to the Selection Policy. 
The following dates are the relevant point at which ranking tables will be consulted for selection to national teams for the coming season:
Ranking dates team selections
Date at which ranking tables will be consulted for selection to national teams - invitation events
| | | | | |
| --- | --- | --- | --- | --- |
| Asian Championships (senior) | December 31, 2019 | | | |
| World Championships (senior) | N/A for 2020 | | | |
| Asian Championships (cadet/junior) | November 27, 2019 | | | |
| World Championships (cadet/junior) | January 13, 2020 | | | |
| Asian Championships (veteran) | TBC | | | |
| World Championships (veteran) | July 8, 2020 | | | |
| Commonwealth Age Group Championships (veteran) | April 6, 2020 | | | |
| Junior Oceania | February 17, 2020 | | | |
Asian Junior and Cadet Championships
Amman, Jordan
27 Feb to 8 March
Asian U/23 Championships
Thailand
October
Asian Senior Championships
Japan
13 to 18 June
Asian Veteran Championships
Taipei
16 to 19 August
World Junior and Cadet Championships
Torun, Poland
6 to 14 April
World Senior Championships
Budapest, Hungary
15 to 23 July
World Veterans Championships
Cairo, Egypt
5 to 10 October
Oceania Cadet Championships
Wellington, New Zealand
25-28 April 2019
Oceania Senior Championships
(with AFC Senior Championships)
Canberra, Australia
Nov/Dec
2020 Overseas Invitation Tournaments
Asian Cadet and Junior Championships
Indonesia
Asian U/23 Championships
Taipei
Asian Senior Championships
Korea
Asian Veteran Championships
Hong Kong
World Cadet and Junior Championships
Salt Lake City, USA
World Senior Championships
N/A
World Veterans Championships
Porec, Croatia
Oceania Veteran Championships
(with AFC Championships)
Canberra, ACT
Junior Oceania Championships
Auckland, NZ
Other tournaments
World Cups and Grand Prix

FIE Satellite events

Asian Cadet Circuit
---
Review tournament documentation published by the host nation or federation regarding entry requirements. Some of these events carry special conditions, such as restrictions on citizenship, and may require membership of foreign fencing associations.
Ensure AFF entry prerequisites have been met (see below)
Nominate through the AFF Registrations page (see process below).
It is highly recommended that fencers never act through third parties in attempting to enter overseas events. Often there will be a country-to-country entry or protocol requirement.
Note: Many competitions carry a fine of at least $800 for non-appearance, which is payable if a fencer enters and does not compete.
Overseas  domestic tournaments
Athletes are generally able to enter these competitions directly without assistance from the AFF. Tournament documentation published by the host should specify entry requirements, including any restrictions on citizenship, and may require membership of foreign fencing associations. In some cases event organisers will only accept entries made through a fencer's national fencing body.
Prerequisites to nominating
Before nominating to compete in an overseas event, athletes should check their AFF Portal records for the following:
Nominations for 'invitation' events are called for by the AFF. For all 'other tournaments', athletes should follow these steps:
Fencers must go through the above process themselves.  The only exception is for minors, in which case it must be done by a parent.  This requirement relates to potential financial penalties associated with non-appearance and referee fines (see below).
Referee expenses
Overseas events generally require participating countries to also send a referee to the tournament where a minimum number of fencers are entered by that country (generally four). In lieu of sending a referee, participating countries can elect to pay a levy. The AFF has adopted the following protocol in determining how to apportion referee levies charged for Category E (non-invitational) overseas events.
Checking overseas event entries
For FIE events, entries can be confirmed at www.fie.org , under the Competitions menu, Calendar, and searching for the competition details. The competition entries can be found under the Entries option.
For EFC events, entries can be confirmed by accessing www.eurofencing.info , under the Tournaments menu searching for the competition details. The competition entries can be found by clicking on the event, then selecting the Inscriptions option.
For FCA events, this process is not currently published.
For most FIE events, the FIE will accept entries up to seven days prior to an event. Consequently, all processes above must be completed at least nine days prior to the event.  Under the FIE rules, late entries attract a fine of at least $250 to $400, which must been confirmed as received in full by the AFF before any request is made to the FIE. When calculating how late an entry will be, the AFF will add two days for its own processes.
The FIE requires fencers who are under 18 and not travelling with a parent to have a special document submitted to the event organisers (an example can be found here ).
Australians living overseas
To be a member of the Australian Fencing Team and Australian Fencing Squad, an athlete must be able to represent Australia, which is why the relevant Athlete Agreement requires an FIE licence.
Commonwealth and FIE events require an FIE licence in the country of citizenship.
Dual nationality fencers who already have a foreign nationality FIE licence must request a switch to an Australian FIE licence.
Under the FIE's rules, it is only possible to switch countries once in an athlete's life.  In some countries, this then stops them from being allowed to enter competitions in their country of residence.
Some regional or national events do not require an FIE licence, merely entry by an athlete or a National Federation nominating an athlete who identifies a country as their country of competition.
How to fence for Australia
An overseas-based athlete must affiliate through a state fencing association (usually in the state with which the athlete has either a direct or family link), nominating a "full" State affiliation. This will be recognised as a national membership, known as a competitive affiliation (rather than simply a participative affiliation).
In some states, fencers might be required to join a nominal club in that state before affiliating at state level.
It is not necessary to submit any citizenship proof, or fencing results or resume.
Any queries regarding this process can be submitted to operations@fencing.org.au
To learn about representing Australia as part of the Australian Fencing Team or Squad, › view information about the High Performance Program here.