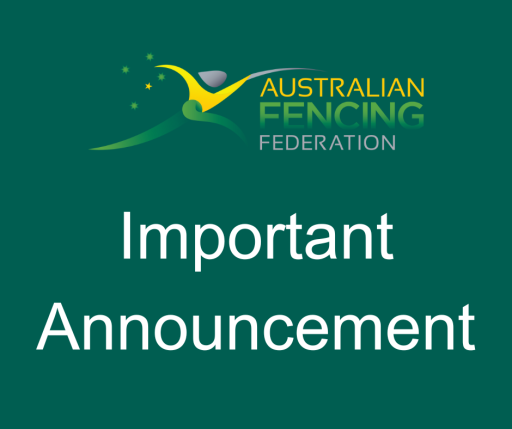 Paul Glasson steps down as HPC Chair – New Co-Chairs Announced
Paul Glasson has stepped down from the role of Chair of the High Performance Commission (HPC) and HPC committee member. Since joining the board more than 2 years ago, Paul has driven the growth of the High Performance Program and been instrumental in developing many of the benefits of the National Squad.
In his time as HPC Chair, Paul has brought to the program and the AFF not only his love for fencing but also his commercial prowess to inject knowledge and tenacity into everything he has achieved in his time in the role.
Paul's contribution includes, but is not limited to, leading the HPC working across a range of areas: with Member States the creation of and investment in National Training Centres concepts in NSW and VIC with significant new infrastructure, the update of Selection and Rankings Policies including an automated selection system allowing fencers easier access to compete; competition scheduling improvement to ensure all athletes are available to fence in National Competitions; expansion of the National Coaching team, leading recruitment of National Foil Coach and introducing athlete-focused services to the National Squad including, Nutrition Coaching, Strength and Conditioning Coaching, and Mindset Coach; the improved education and subsidies for National referee team. The launch of the AYC and National Squad Youth category further boosted the depth of the program positioning for the 2032 Olympics.
As well as these services, he has led the creation of funding opportunities for athletes which have given subsidies for competing at International Championships, mobility sparring program, and other relief from costs associated with competing for Australia. These services and funding have contributed to the biggest growth in the HP Program historically, and increase in nominations in the recent intake of squad members since the commencement of the HPC.
Paul's commitment as HPC Chair has had a very positive impact on the sport of Fencing in Australia, and for this we thank him.  Paul will continue in his role as Vice President, where he will have a particular focus on funding and stakeholder engagement.
With Paul stepping down this will bring a change to the HPC, with Sam Auty joining the committee, and with Davide Wheeler becoming Co-Chairs of the HPC. Sam Auty is an experience competitive fencer who represented Australia in women's sabre at the Tokyo Olympic Qualifier in 2021, as well as being a sabre coach, and FIE qualified referee. Davide Wheeler is currently President of the AFF, and an experienced sabreur who has achieved a 2 individual gold medals in the men's veteran sabre event at the Commonwealth Fencing Championships in 2016 and 2018, as well as being a nationally accredited referee, and Chair of the National Competitions Committee. Together they bring considerable experience to the role.
New co-Chairs Sam Auty and Davide Wheeler are joined by existing HPC members Ned Fitzgerald and Angela Bensted.
Never miss an announcement
Subscribe to receive AFF news via email