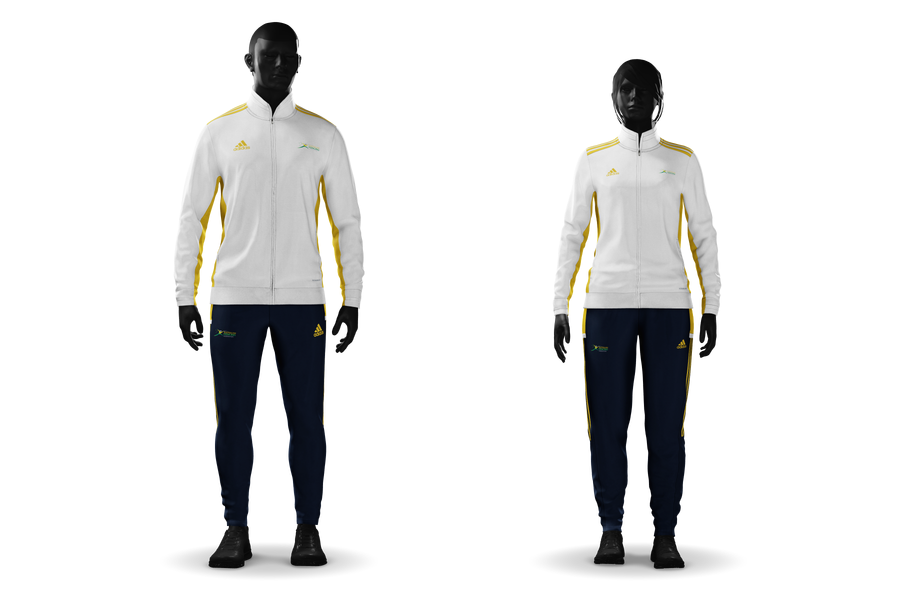 It's time.
After four years of faithful service by our cheerful yellow uniform, a new national team tracksuit is now available for all representative fencers.
The AFF has partnered with Adidas Australia and Kayotik (Kayt Spano) to develop the new uniform, which draws on contemporary design trends and is constructed from breathable, quick-drying fabric. A new range of training and supporter gear is also on the drawing board – stay tuned for further announcements on that range.
Uniform
The new white jacket will be phased in as official apparel for all international competitions and international podium presentations. While the white jacket is only available to fencers who have been selected to a national team, a new navy travel and training jacket is also available for purchase by all fencers, coaches and supporters. The navy trackpants are also available for purchase by all.
High Performance Athletes
The podium tracksuit (new white jacket + navy trackpants) will be provided to all athletes on the Open High Performance Program for the upcoming Senior Asian Fencing Championships at no cost to them. These athletes have been contacted directly for ordering details.
It is expected that this will be rolled out to the aged high performance categories at the beginning of their next season.
Phase in
To minimise the financial impact on representative fencers, there will be a twelve-month phase in when both the existing yellow tracksuit and new white jacket / navy pants uniform will be acceptable at international events. This phase in period begins now and so, from the end of February 2021, the yellow tracksuit will become a desirable piece of vintage kit but will no longer be considered current uniform for international representation.
Where to buy
A new online shop has been added to the AFF website, with delivery options including a flat rate $15 postage to anywhere in Australia or free collection from national tournaments or in Melbourne by arrangement with Kayotik.
There is a minimum five-week lead time on the tracksuits for orders placed before the 25th day of each month.
So don't delay. The shop is open for business now.
Never miss an announcement
Subscribe to receive AFF news via email