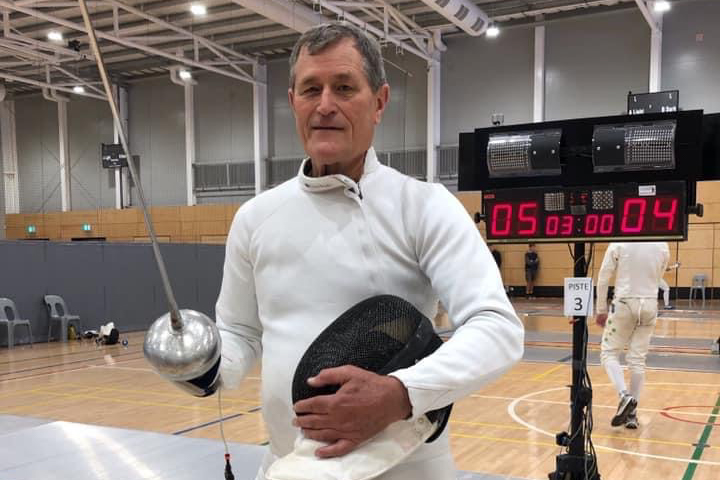 Duncan Fairweather awarded life membership
In recognition and appreciation of his outstanding contribution to Australian fencing, Member States voted unanimously to grant Mr Duncan Fairweather life membership of the Australian Fencing Federation (AFF) at its Annual General Meeting on 21 May 2022.
Duncan Fairweather has served in various leadership roles on the New South Wales Fencing Association Board for more than 15 years, seven of those as State President and a further six years as Vice President and Secretary. For five of those he also found time to chair the AFF Selection Commission.
Duncan has been a constant and consistent champion for fencing at the local, state and national level. He is equally comfortable in the board room discussing policy and mentoring up-and-coming administrators as he is running equipment control or staffing a sign-in desk. His legacy is far reaching. In particular, he was the driving force behind developing a professional coaching staff in New South Wales and the move to a dedicated fencing centre. In December 2021 that facility was renamed in his honour.
Duncan was a latecomer to fencing, first picking up a weapon in his mid-50s at Angelo Santangelo's club. He went on to claim national championship titles in the 50+ and 60+ age categories and competed in nine World Veteran Fencing Championships, once making the top 16, and three times finishing in the top 32.
Duncan has nurtured many fencers over the years and continues to play a pivotal role in the sport's development. On learning of his AFF life membership, Duncan responded with his customary modesty, paying tribute to Kaye Mahoney and Jing Shang as "two very professional, dedicated and forward-looking presidents" with whom he has been fortunate to work.
"(While) running fencing at state or national level is taxing, I have always thought that fencing has given more to me than I have given to fencing," he said.
"My greatest reward is seeing young children step with some trepidation onto the piste for the first time and grow up into confident and successful young adults.
"The values of courtesy, respect and determination that fencing teaches can guide all all of us in our lives," Duncan said.
Never miss an announcement
Subscribe to receive AFF news via email