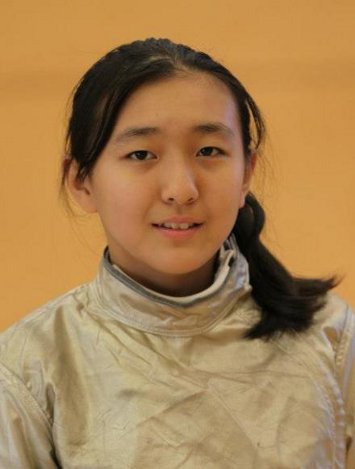 When and Where Born:
1999
City of Residence:
Brisbane
When and Why they started fencing:
When I was 6, my mum told me to try out fencing, saying it would help improve my confidence (I was a very shy girl). Believing my mum?s promise that I only needed to learn fencing for 6 months, I agreed. I didn?t enjoy fencing for quite some time, as everyone around me was at least twice my size and was many times stronger than me. However, I slowly learned techniques and tactics and suddenly found myself winning school comps and later State comps. So, the 6 month project that was originally put up by my mum is still in progress after many years.
International Results
2021
2021 Replacements due to COVID Restrictions - Women's Foil - 6
2018
Championnats du Monde - CHM - Wuxi (Open) - Women's Foil - 84
2018
Championnats Asiatiques * - CHZ - Bangkok (Open) - Women's Foil - 55
2018
Grand Prix - GP - Shanghai (Open) - Women's Foil - 126
2016
2016 Asian Under23 Fencing Championships - Tokyo, Japan - Women's Foil - 21
2016
Championnats asiatiques * - CHZ - Wuxi (Open) - Women's Foil - 29
2016
Championnats de qualification Asie-Oc?anie * - OF - Wuxi (Open) - Women's Foil - 9
2016
Championnats du monde juniors-cadets - CHM - Bourges (Cadet) - Women's Foil - 29
2016
Coupe du Monde - A - Zagreb (Junior) - Women's Foil - 89
2016
The Artus Court PKO BP - A - Gdansk (Open) - Women's Foil - 153
2016
Coupe du Monde - A - M?dling (Junior) - Women's Foil - 68
2015
Championnats du Monde - CHM - Moscou (Open) - Women's Foil - 45
2015
Champ du monde juniors-cadets - CHM - Tashkent (Junior) - Women's Foil - 72
2015
Champ du monde juniors-cadets - CHM - Tashkent (Cadet) - Women's Foil - 35
2015
Championnats asiatiques juniors - CHZ - Abu Dhabi (Junior) - Women's Foil - 16
2015
Championnats asiatiques Cadets - CHZ - Abu Dhabi (Cadet) - Women's Foil - 10
2014
2014 Commonwealth Open Fencing Championships - Largs, Scotland - Women's Foil - 17
2014
Coupe du Monde - A - St-Maur (Open) - Women's Foil - 127
2014
Championnats asiatiques - CHZ - Suwon City (Open) - Women's Foil - 38
2014
Champ du monde juniors-cadets - CHM - Plovdiv (Junior) - Women's Foil - 75
2014
Champ du monde juniors-cadets - CHM - Plovdiv (Cadet) - Women's Foil - 51
2014
Korean Fencing Federation President's Cup Middle School - Women's Foil -
Gold
2013
Champ du monde juniors-cadets - CHM - Porec (Junior) - Women's Foil - 77
2013
Asian Cadet Championships-Bangkok, Thailand - Women's Foil - 38
2013
Asian Junior Championships- Bangkok, Thailand - Women's Foil - 21
2013
World Cadet Championships - Porec, Croatia - Women's Foil - 44
2013
Oceania Cadet Championships- Noumea, New Caledonia - Women's Sabre -
Silver
2013
Oceania Cadet Championships- Noumea, New Caledonia - Member, Women's Epee Team -
Bronze
2013
Oceania Cadet Championships- Noumea, New Caledonia - Member, Women's Foil Team -
Gold
2013
Oceania Cadet Championships- Noumea, New Caledonia - Women's Foil -
Gold
National Results
2021
AFC #1 - Women's Foil -
Bronze
2019
National Opens - Women's Sabre -
Bronze
2019
National Opens - Women's Foil - 6
2018
AFC #4 - Women's Foil - 19
2018
AFC #3 - Women's Foil - 7
2018
Nationals Under 23 - Women's Foil - 17
2018
AFC #2 - Women's Foil - 17
2018
AFC #1 - Women's Foil - 5
2018
National Juniors - Women's Foil -
Bronze
2017
National Opens - Women's Foil - 6
2017
National Juniors - Women's Foil -
Bronze
2017
AFC #3 - Women's Foil - 5
2017
Senior School Fencer Championships - Women's Foil -
Gold
2017
Nationals Under 23 - Women's Foil -
Gold
2017
AFC #2 - Women's Foil -
Bronze
2017
AFC #1 - Women's Foil -
Bronze
2016
National Opens - Women's Foil - 6
2016
National Juniors - Women's Foil -
Gold
2016
AFC #3 - Women's Foil -
Silver
2016
National Cadets - Women's Foil -
Bronze
2016
AFC #1 - Women's Foil -
Bronze
2015
National Opens - Women's Foil -
Silver
2015
National Juniors - Women's Foil -
Gold
2015
AFC #3 - Women's Foil -
Silver
2015
National Cadets - Women's Foil -
Bronze
2015
National Cadets - Women's Sabre -
Silver
2015
Nationals Under 23 - Women's Foil -
Bronze
2015
AFC #2 - Women's Foil - 7
2015
AFC #1 - Women's Foil - 7
2015
AFC #1 - Women's Sabre - 10
2014
National Opens - Women's Sabre - 9
2014
National Opens - Women's Foil - 14
2014
National Juniors - Women's Epee - 5
2014
Nationals Under 23 - Women's Foil -
Silver
2014
National Juniors - Women's Sabre -
Silver
2014
Nationals Under 23 - Women's Epee - 5
2014
National Juniors - Women's Foil -
Gold
2014
Nationals Under 23 - Women's Sabre -
Bronze
2014
AFC #3 - Women's Foil -
Silver
2014
National Cadets - Women's Epee - 11
2014
National Cadets - Women's Sabre -
Silver
2014
National Cadets - Women's Foil -
Gold
2014
AFC #2 - Women's Foil - 8
2014
AFC #2 - Women's Sabre - 14
2014
AFC #2 - Women's Foil - 8
2014
AFC #1 - Women's Foil - 6
2013
Nationals U15 - Women's Epee -
Silver
2013
National Opens - Women's Sabre - 8
2013
National Cadets - Member, Women's Sabre Team -
Bronze
2013
Nationals U15 - Member, Women's Sabre Team -
Gold
2013
AFC #3 - Women's Sabre - 11
2013
National Cadets - Women's Sabre -
Bronze
2013
National Juniors - Women's Sabre - 8
2013
Nationals U15 - Women's Sabre -
Silver
2013
R. Chaplin (AFC #2) - Women's Sabre - 7
2013
National Opens - Women's Foil - 13
2013
National Cadets - Member, Women's Foil Team -
Gold
2013
AFC #3 - Women's Epee - 12
2013
Nationals U15 - Member, Women's Foil Team -
Silver
2013
National Cadets - Women's Foil -
Bronze
2013
National Juniors - Women's Epee -
Bronze
2013
Nationals U15 - Women's Foil -
Gold
2013
R. Chaplin (AFC #2) - Women's Foil -
Bronze
2013
National Opens - Women's Epee - 15
2013
National Cadets - Member, Women's Epee Team -
Gold
2013
AFC #3 - Women's Foil -
Gold
2013
Nationals U15 - Member, Women's Epee Team -
Bronze
2013
National Cadets - Women's Epee -
Bronze
2013
National Juniors - Women's Foil -
Bronze
2012
R. Chaplin (AFC #2) - Women's Epee - 9
2012
AFC #3 - Women's Epee - 13
2012
National Cadets - Women's Sabre -
Silver
2012
National Cadets - Member, Women's Sabre Team -
Silver
2012
National Juniors - Women's Sabre -
Bronze
2012
School Fencer Championships - Women's Foil -
Bronze
2012
D.H. McKenzie (AFC #1) - Women's Sabre - 13
2012
Nationals U15 - Women's Foil - 5
2012
Nationals U15 - Member, Women's Sabre Team -
Bronze
2012
R. Chaplin (AFC #2) - Women's Foil - 15
2012
National Opens - Member, Women's Foil Team -
Silver
2012
National Club Teams - Member, Women's Sabre Team -
Silver
2012
AFC #3 - Women's Foil - 13
2012
National Cadets - Women's Epee -
Bronze
2012
National Cadets - Member, Women's Epee Team -
Gold
2012
School Fencer Championships - Member, Women's Foil Team -
Gold
2012
Nationals U15 - Women's Epee -
Silver
2012
Nationals U15 - Member, Women's Epee Team -
Gold
2012
Queensland State Under 15s Championships - Women's Foil -
Gold
2012
National Club Teams - Member, Women's Epee Team -
Silver
2012
National Cadets - Member, Women's Foil Team -
Gold
2012
Nationals U15 - Member, Women's Foil Team -
Silver
2012
NSW State Under 15s Championships - Women's Foil -
Gold
2012
National Club Teams - Member, Women's Foil Team -
Gold
2012
D.H. McKenzie (AFC #1) - Women's Foil - 11
2012
Nationals U15 - Women's Sabre - 5
2011
National Cadets - Women's Foil - 9
2011
National Juniors - Member, Women's Sabre Team -
Bronze
2011
Schools Championships - Women's Foil -
Gold
2011
Nationals U15 - Member, Women's Epee Team -
Gold
2011
National Cadets - Women's Epee - 11
2011
National Juniors - Women's Epee - 11
2011
Queensland State Under 15s Championships - Women's Foil -
Gold
2011
Nationals U15 - Women's Foil - 11
2011
National Juniors - Member, Women's Foil Team -
Bronze
2011
National Cadets - Member, Women's Foil Team -
Bronze
2011
National Juniors - Women's Foil - 5
2011
AFC #3 - Women's Foil - 12
2011
Nationals U15 - Member, Women's Foil Team -
Bronze
2011
National Juniors - Member, Women's Epee Team -
Bronze
2011
School Fencer Championships - Member, Women's Foil Team -
Gold
2011
National Cadets - Member, Women's Epee Team -
Silver
2010
NSW State Under 13s Championships - Women's Foil -
Gold
2010
National Opens - Women's Epee - 12
State Results
2017
QFA Open Competition 1 - Women's Foil -
Gold
2013
Queensland State Opens Championships - Women's Epee -
Bronze
2013
QLD State Cadet Championships - Women's Epee -
Gold
2013
Queensland State Under 15s Championships - Women's Epee -
Gold
2013
QLD State Cadet Championships - Women's Sabre -
Gold
2013
Queensland State Opens Championships - Women's Sabre -
Silver
2013
Queensland State Under 15s Championships - Women's Foil -
Gold
2013
Queensland State Opens Championships - Women's Foil -
Silver
2013
QLD State Cadet Championships - Women's Foil -
Gold
2013
Queensland State Under 15s Championships - Women's Sabre -
Gold
2012
QLD State Cadet Championships - Women's Foil -
Silver
2012
Queensland State Opens Championships - Women's Epee -
Silver
2012
Queensland State Under 15s Championships - Women's Sabre -
Gold
2012
QLD State Cadet Championships - Women's Epee -
Bronze
2012
Queensland State Opens Championships - Women's Sabre -
Silver
2012
NSW State Under 15s Championships - Women's Sabre -
Silver
2012
Queensland State Under 13s Championships - Women's Foil -
Gold
2012
Queensland State Under 15s Championships - Women's Epee -
Gold
2012
Queensland State Opens Championships - Women's Foil -
Silver
2012
NSW State Under 15s Championships - Women's Epee -
Silver
2011
Queensland State Under 15s Championships - Women's Epee -
Gold
2011
NSW State Under 13s Championships - Women's Foil -
Gold
2011
Queensland State Under 13s Championships - Women's Foil -
Gold
2011
QLD State Cadet Championships - Women's Foil -
Bronze
2011
QLD State Cadet Championships - Women's Epee -
Bronze
2010
Queensland State Under 13s Championships - Women's Foil -
Gold
2010
Queensland State Opens Championships - Women's Epee -
Bronze
2009
Queensland State Under 13s Championships - Women's Foil -
Gold
Coach
Coached By
2015 - Current
SIGNORELLO, Antonino
2013 - 2014
MCFADYEN, David
2011 - 2013
LEITCH, Simon
2006 - Current
CROOK, Paul
Clubs
2006 - Current
The Fencing Club