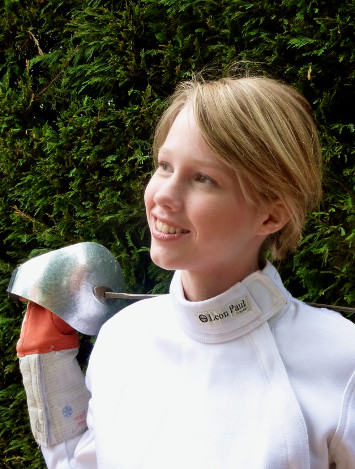 When and Where Born:
1997
City of Residence:
Sydney
When and Why they started fencing:
In year 6, I decided I wanted a sport I could excel in and feel passionate about. I was looking through a list of sports at my school and asked my mum what fencing was. As soon as she said it was a sport where you use swords, I was immediately interested! (Some of my favorite movies had sword play in them - Pirates of the Caribbean and Lord of the Rings). Ever since, I have loved fencing and have been training hard to represent Australia to the best of my ability.
International Results
2015
Championnats asiatiques juniors - CHZ - Abu Dhabi (Junior) - Women's Sabre - 26
2014
Champ du monde juniors-cadets - CHM - Plovdiv (Junior) - Women's Sabre - 86
2014
Champ du monde juniors-cadets - CHM - Plovdiv (Cadet) - Women's Sabre - 80
2013
Champ du monde juniors-cadets - CHM - Porec (Junior) - Women's Sabre - 80
2013
Asian Junior Championships - Bangkok Thailand - Member, Women's Sabre Team - 6
2012
Champ du monde juniors-cadets - CHM - Moscou (Junior) - Women's Sabre - 79
2012
Cadet World Championships - Moscow - Women's Sabre - 39
2012
Asian Cadet Championships - Bali Indonesia - Women's Sabre - 21
National Results
2015
AFC #1 - Women's Sabre - 11
2014
National Opens - Women's Sabre - 17
2014
National Juniors - Women's Sabre - 11
2014
National Juniors - Member, Women's Sabre Team -
Gold
2014
Nationals Under 23 - Women's Sabre - 6
2014
National Club Teams - Member, Women's Sabre Team -
Silver
2014
AFC #3 - Women's Sabre - 12
2014
National Cadets - Women's Sabre -
Bronze
2014
National Cadets - Member, Women's Sabre Team -
Silver
2014
AFC #2 - Women's Sabre - 16
2014
AFC #1 - Women's Sabre - 19
2013
National Cadets - Women's Sabre -
Bronze
2013
National Cadets - Member, Women's Sabre Team -
Bronze
2013
National Juniors - Member, Women's Sabre Team -
Gold
2012
National Opens - Women's Sabre -
Bronze
2012
Nationals U15 - Women's Sabre -
Gold
2012
D.H. McKenzie (AFC #1) - Women's Sabre - 7
2012
National Club Teams - Member, Women's Sabre Team -
Gold
2012
AFC #3 - Women's Sabre - 15
2012
National Juniors - Member, Women's Sabre Team -
Gold
2012
National Cadets - Member, Women's Sabre Team -
Gold
2012
R. Chaplin (AFC #2) - Women's Sabre - 8
2012
National Opens - Member, Women's Sabre Team -
Silver
2012
National Cadets - Women's Sabre -
Gold
2012
Nationals U15 - Member, Women's Sabre Team -
Silver
2012
National Juniors - Women's Sabre - 7
2011
National Cadets - Women's Sabre -
Bronze
2011
National Cadets - Women's Sabre -
Bronze
2011
National Juniors - Women's Sabre -
Silver
2011
National Opens - Member, Women's Sabre Team -
Bronze
2011
AFC #3 - Women's Sabre - 8
2011
National Juniors - Member, Women's Sabre Team -
Silver
2011
National Cadets - Member, Women's Sabre Team -
Bronze
2011
AFC #3 - Women's Sabre - 8
2010
National Cadets - Member, Women's Sabre Team -
Silver
2010
National Opens - Member, Women's Sabre Team -
Gold
State Results
2013
NSW State Junior Championships - Women's Sabre -
Silver
2012
NSW State Cadet Championships - Women's Sabre -
Gold
2012
NSW State Junior Championships - Women's Sabre -
Bronze
2012
NSW State Under 15s Championships - Women's Sabre -
Gold
2011
NSW State Cadet Championships - Women's Sabre -
Gold
2011
NSW State Opens Championships - Women's Sabre -
Bronze
2011
NSW State Junior Championships - Women's Sabre -
Silver
2011
NSW State Under 15s Championships - Women's Sabre -
Gold
2010
NSW State Junior Championships - Women's Sabre -
Bronze
2010
NSW State Under 15s Championships - Women's Sabre -
Silver
2010
NSW State Cadet Championships - Women's Sabre -
Bronze
2010
NSW State Opens Championships - Women's Sabre -
Bronze
2010
NSW State Under 13s Championships - Women's Sabre -
Gold
2009
NSW State Under 13s Championships - Women's Sabre -
Gold
Coach
Coached By
2009 - Current
SIGNORELLO, Antonino
Clubs
2009 - Current
University of NSW