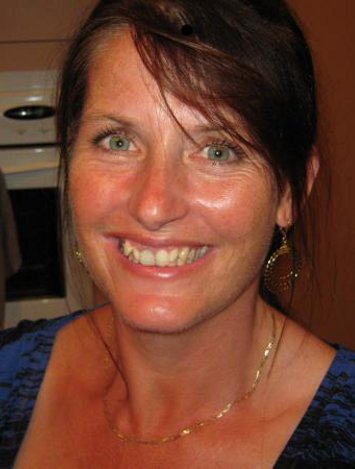 When and Where Born:
1969
City of Residence:
Sydney
When and Why they started fencing:
I started fencing when I entered highschool in 1982. Nigel, my brother, was already fencing and he use to come home and practise with me (correction on me) using a stick. I think I got sick of him poking me all the time. So when I started highschool and fencing was offered I decided to take up the sport with the goal that one day I would beat him.
International Results
2022
Championnats du monde v?t?rans 50-59 - CHM - Zadar (Veteran) - Women's Epee - 5
2022
Championnats du monde v?t?rans 50-59 - CHM - Zadar (Veteran) - Women's Foil - 16
2022
Commonwealth Fencing Championships 2022 - Veteran - Women's Epee -
Bronze
2022
Commonwealth Fencing Championships 2022 - Veteran - Women's Foil - 6
2019
Championnats du monde veterans - CHM - Le Caire () - Member, Women's Epee Team - 6
2019
Championnats du monde veterans 50-59 - CHM - Le Caire () - Women's Epee -
Silver
2019
Championnats du monde veterans - CHM - Le Caire () - Member, Women's Foil Team - 5
2019
Championnats du monde veterans 50-59 - CHM - Le Caire () - Women's Foil - 19
2019
Asian Veteran Fencing Championships, Taipei - Member, Women's Epee Team -
Bronze
2019
Asian Veteran Fencing Championships, Taipei - Member, Women's Foil Team -
Bronze
2019
Asian Veteran Fencing Championships, Taipei 50-59 - Women's Epee -
Silver
2019
Asian Veteran Fencing Championships 50-59 - Women's Epee -
Silver
2019
Asian Veteran Fencing Championships 50-59 - Women's Foil -
Gold
2019
Asian Veteran Fencing Championships, Taipei 50-59 - Women's Foil -
Gold
2018
2018 Commonwealth Veteran Fencing Championships - Canberra, Australia - Women's Foil -
Gold
2018
2018 Commonwealth Veteran Fencing Championships - Canberra, Australia - Women's Epee - 9
2018
2018 Asian Veteran Fencing Championships (Wakayama, Japan) (40+) - Women's Epee - 5
2018
2018 Asian Veteran Fencing Championships (Wakayama, Japan) (40+) - Women's Foil -
Bronze
2016
2016 Commonwealth Veteran Fencing Championships (40+) - Christchurch, New Zealand - Women's Epee -
Bronze
2016
2016 Commonwealth Veteran Fencing Championships (40+) - Christchurch, New Zealand - Women's Foil -
Gold
2016
Asian Masters/Oceanic Fencing Championships - Perth, Australia - Women's Sabre -
Bronze
2016
Asian Masters/Oceanic Fencing Championships - Perth, Australia - Women's Epee -
Gold
2016
Asian Masters/Oceanic Fencing Championships - Perth, Australia - Women's Foil -
Gold
2012
2012 Commonwealth Veteran Fencing Championships - Singapore - Women's Foil -
Silver
2012
2012 Commonwealth Veteran Fencing Championships - Singapore - Women's Epee -
Silver
2011
Challenge Australia - A - Sydney (Senior) - Women's Epee - 109
2010
Commonwealth Fencing Championships - Melbourne - Women's Epee - 14
2010
2010 Commonwealth Veteran Fencing Championships - Melbourne, Australia - Women's Foil - 5
2010
2010 Commonwealth Veteran Fencing Championships - Melbourne, Australia - Women's Epee -
Gold
2009
Challenge Australia - A - Sydney (Senior) - Women's Epee - 20
2005
Challenge Australia - A - Sydney (Senior) - Women's Epee - 14
1992
Challenge Australia - Women's Epee - 8
1991
Challenge Australia - Women's Epee - 6
1990
Championnats du Monde - CHM - Lyon (Senior) - Women's Epee - 98
1990
1990 World Championships - Lyon, France (Open) - Women's Epee - 98
1990
Commonwealth Fencing Championships - Manchester, England - Women's Epee - 18
1989
World Student Games (Universaide) - Duisburg, German - Women's Foil - 55
1989
World Student Games - Germany - Women's Epee - 34
1989
World Youth Championships - Athens, Greece - Women's Epee - 17
1989
World Youth Championships - Athens, Greece - Women's Foil - 56
1989
New Zealand Under 20 National Championships - Women's Foil -
Gold
1989
New Zealand Under 20 National Championships - Women's Epee -
Bronze
National Results
2022
National Opens - Women's Epee -
Silver
2022
National Veterans - Women's Foil - 5
2022
National Veterans - Women's Epee -
Bronze
2022
R. Chaplin (AFC #2) Veterans - Women's Foil -
Silver
2022
R. Chaplin (AFC #2) Veterans - Women's Epee -
Gold
2022
R. Chaplin (AFC #2) - Women's Epee -
Bronze
2022
D. H. McKenzie (AFC #1) Veterans - Women's Epee -
Silver
2022
D.H. McKenzie (AFC #1) - Women's Epee -
Silver
2022
D. H. McKenzie (AFC #1) Veterans - Women's Foil -
Silver
2021
National Veterans - Women's Epee -
Silver
2021
National Opens - Women's Epee - 13
2021
National Veterans - Women's Foil -
Bronze
2021
R. Chaplin (AFC #2) Veterans - Women's Foil -
Gold
2021
R. Chaplin (AFC #2) Veterans - Women's Epee -
Gold
2021
R. Chaplin (AFC #2) - Women's Epee - 7
2021
D. H. McKenzie (AFC #1) Veterans - Women's Foil -
Silver
2021
D.H. McKenzie (AFC #1) - Women's Epee - 7
2021
D. H. McKenzie (AFC #1) Veterans - Women's Epee -
Gold
2019
National Veterans - Women's Epee - 9
2019
National Opens - Women's Epee - 17
2019
National Veterans - Women's Foil -
Silver
2019
R. Chaplin (AFC #2) Veterans - Women's Foil - 6
2019
R. Chaplin (AFC #2) - Women's Epee - 8
2019
R. Chaplin (AFC #2) Veterans - Women's Epee -
Gold
2019
D.H. McKenzie (AFC #1) - Women's Epee - 6
2019
D. H. McKenzie (AFC #1) Veterans - Women's Epee -
Gold
2019
D. H. McKenzie (AFC #1) Veterans - Women's Foil -
Bronze
2018
National Veterans - Women's Epee -
Silver
2018
National Opens - Women's Epee - 23
2018
AFC #4 Veterans - Women's Foil -
Bronze
2018
AFC #4 - Women's Epee - 11
2018
AFC #4 Veterans - Women's Epee -
Silver
2016
National Veterans - Women's Epee -
Gold
2016
National Opens - Women's Epee - 5
2016
AFC #3 Veterans - Women's Epee -
Gold
2016
AFC #3 Veterans - Women's Foil -
Gold
2016
AFC #3 Veterans - Women's Sabre -
Bronze
2016
AFC #3 - Women's Epee -
Gold
2016
R. Chaplin (AFC #2) - Women's Epee -
Silver
2016
R. Chaplin (AFC #2) Veterans - Women's Epee -
Gold
2016
R. Chaplin (AFC #2) Veterans - Women's Foil -
Silver
2016
D. H. McKenzie (AFC #1) Veterans - Women's Epee -
Gold
2016
D.H. McKenzie (AFC #1) - Women's Epee - 10
2016
D. H. McKenzie (AFC #1) Veterans - Women's Foil -
Silver
2015
National Veterans - Women's Epee -
Gold
2015
National Opens - Women's Epee -
Bronze
2015
R. Chaplin (AFC #2) Veterans - Women's Foil -
Bronze
2015
R. Chaplin (AFC #2) Veterans - Women's Epee -
Silver
2015
R. Chaplin (AFC #2) - Women's Epee - 6
2014
National Opens - Women's Epee - 20
2014
National Veterans - Women's Epee -
Gold
2012
National Veterans - Women's Foil -
Bronze
2012
D. H. McKenzie (AFC #1) Veterans - Women's Foil -
Gold
2012
National Veterans - Women's Epee -
Gold
2012
National Opens - Women's Epee - 6
2012
D.H. McKenzie (AFC #1) - Women's Epee -
Bronze
2012
D. H. McKenzie (AFC #1) Veterans - Women's Epee -
Gold
2011
R. Chaplin (AFC #2) Veterans - Women's Epee -
Gold
2011
D.H. McKenzie (AFC #1) - Women's Epee - 5
2011
AFC #3 Veterans - Women's Foil -
Silver
2011
AFC #3 - Women's Epee -
Bronze
2011
AFC #3 Veterans - Women's Epee -
Gold
2011
National Veterans - Women's Epee -
Silver
2011
R. Chaplin (AFC #2) Veterans - Women's Foil -
Silver
2011
National Veterans - Women's Foil -
Bronze
2011
R. Chaplin (AFC #2) - Women's Epee -
Gold
State Results
2016
ACT State Opens Championships - Women's Epee -
Gold
Clubs
1982 - Current
Macquarie University Fencing Club