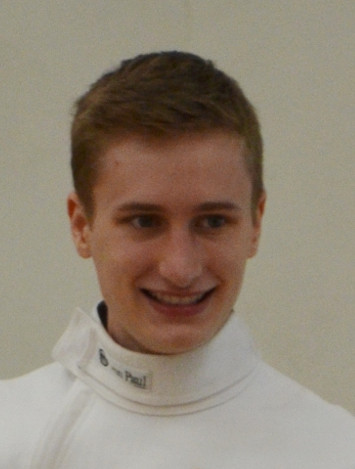 When and Where Born:
1995
City of Residence:
Brisbane, Australia
When and Why they started fencing:
When I was 11, I bought myself a cheap sword from the local medieval fair, and tested it out by hacking the plants in the back garden to shreds. Eventually my mum got sick of the destruction, and enrolled me in a fencing course to try and save the plants. I have loved fencing ever since.
International Results
2014
Coupe Heracles Junior - A - Budapest (Junior) - Men's Epee - 88
2014
Coupe Heracles Junior - A - Budapest (Junior) - Men's Epee - 88
2014
Oceania Junior Fencing Championships - Men's Epee -
Silver
2013
Champ du monde juniors-cadets - CHM - Porec (Junior) - Men's Epee - 123
2013
Vigor Challenge - A - Göteborg (Junior) - Men's Epee - 144
2013
Trophée Maître Roger Nigon - A - Bâle (Junior) - Men's Epee - 109
2013
Epee D'Or, Basel, Switzerland - Men's Epee - 16
2012
Cadet World Championships - Moscow - Men's Epee - 55
2012
Junior World Championships - Moscow - Men's Epee - 55
2011
Asian Cadet Fencing Championships, Bangkok - Men's Epee - 5
National Results
2014
National Opens - Men's Epee - 38
2014
National Juniors - Member, Men's Epee Team -
Silver
2014
National Juniors - Men's Epee -
Silver
2014
Nationals Under 23 - Men's Epee -
Silver
2014
AFC #2 - Men's Epee - 5
2014
AFC #1 - Men's Foil - 43
2014
AFC #1 - Men's Epee - 18
2013
R. Chaplin (AFC #2) - Men's Epee - 10
2012
National Opens - Member, Men's Epee Team -
Bronze
2012
National Cadets - Men's Epee -
Silver
2012
National Juniors - Member, Men's Epee Team -
Silver
2011
National Cadets - Men's Foil - 6
2011
Schools Championships - Men's Epee -
Gold
2011
National Opens - Member, Men's Epee Team -
Silver
2011
National Cadets - Men's Foil - 6
2011
National Juniors - Men's Epee -
Gold
2011
National Cadets - Men's Epee -
Gold
2010
National Cadets - Men's Epee -
Bronze
2010
Nationals U15 - Men's Epee - 6
2010
Nationals U15 - Men's Foil - 6
2010
National Juniors - Men's Epee - 5
State Results
2016
Queensland State Opens Championships - Men's Epee - 10
Coach
Coached By
2013 - 2013
LEITCH, Simon
2006 - Current
CROOK, Paul
Clubs
2010 - Current
The Fencing Club