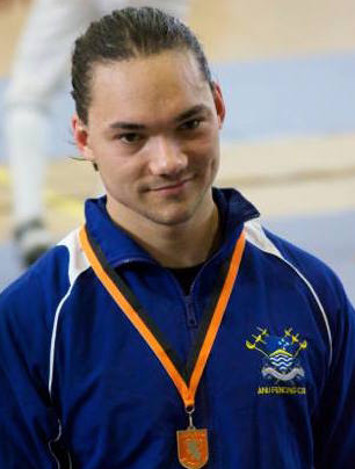 When and Where Born:
1987
City of Residence:
Canberra
When and Why they started fencing:
I started fencing in early high school despite having wanted to fence for many years prior to that. My mother had a brief fencing career and was taught by the brilliant Andy Szakal. She passed on her love of fencing and encouraged me to take up the sport. I was never great at ball sports.
International Results
2018
2018 Commonwealth Senior Fencing Championships - Canberra, Australia - Men's Epee - 26
2018
Championnats du Monde - CHM - Wuxi (Open) - Men's Epee - 110
2018
Championnats Asiatiques * - CHZ - Bangkok (Open) - Men's Epee - 70
2018
Heidenheimer Pokal - A - Heidenheim (Open) - Men's Epee - 280
2018
U23 European Circuit - White Bear - Berlin - Men's Epee - 141
2017
Championnats asiatiques - CHZ - Hong Kong (Open) - Men's Epee - 44
2017
Heidenheimer Pokal - A - Heidenheim (Open) - Men's Epee - 239
2017
SAF-Pokalen * - SA - Stockholm (Open) - Men's Epee - 97
2016
Championnats asiatiques * - CHZ - Wuxi (Open) - Men's Epee - 62
2016
Coupe du Monde - A - Vancouver (Open) - Men's Epee - 172
2016
Heidenheimer Pokal - A - Heidenheim (Open) - Men's Epee - 299
2010
Challenge Australia - A - Sydney (Senior) - Men's Epee - 38
2010
Troph?e Carroccio - GP - Legnano (Senior) - Men's Epee - 174
2009
Tournoi satellite ?p?e masculine - SA - Copenhague (Senior) - Men's Epee - 20
2009
Challenge Monal - A - Paris (Senior) - Men's Epee - 156
2007
Challenge Australia - A - Sydney (Senior) - Men's Epee - 63
National Results
2019
National Opens - Men's Epee - 34
2019
AFC #1 - Men's Epee - 27
2018
National Opens - Men's Epee - 16
2018
AFC #4 - Men's Epee - 9
2018
AFC #3 - Men's Epee - 9
2018
AFC #2 - Men's Epee -
Silver
2018
AFC #1 - Men's Epee - 5
2017
National Opens - Men's Epee - 9
2017
AFC #3 - Men's Epee - 7
2017
AFC #2 - Men's Epee -
Gold
2017
AFC #1 - Men's Epee -
Silver
2016
National Opens - Men's Epee - 27
2016
AFC #3 - Men's Epee -
Bronze
2016
AFC #2 - Men's Epee - 9
2016
AFC #1 - Men's Epee -
Silver
2015
National Opens - Men's Epee -
Bronze
2015
AFC #3 - Men's Epee - 14
2015
AFC #2 - Men's Epee -
Bronze
2015
AFC #1 - Men's Epee - 11
2014
National Opens - Men's Epee - 17
2014
AFC #3 - Men's Epee - 7
2014
AFC #2 - Men's Epee - 35
2010
D.H. McKenzie (AFC #1) - Men's Epee - 16
State Results
2017
ACT State Opens Championships - Men's Epee -
Gold
2016
ACT State Opens Championships - Men's Epee -
Bronze
Clubs
2001 - 2013
VRI Fencing Club