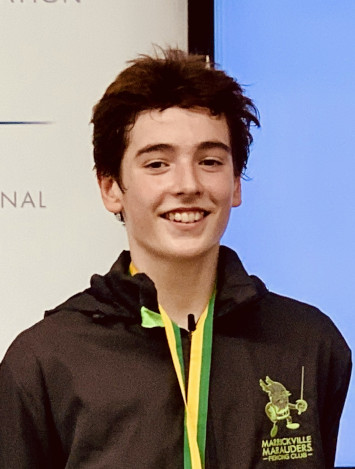 When and Where Born:
2008
City of Residence:
Sydney, Australia
When and Why they started fencing:
Daniel started fencing for his Friday sport at a NSW public primary school when he was 10. It was at the suggestion of his Year 5 classroom teacher. While a keen and competitive dancer (classical ballet, acrobatics and contemporary) since the age of five, three days later Daniel was at his first session of his eight-week beginner course with the Marrickville Marauders Fencing Club. Competitions started for later that same year and haven't stopped.
International Results
2023
Championnats Asiatiques juniors - CHZ - Tashkent (Junior) - Men's Sabre - 46
2023
Championnats Asiatiques juniors - CHZ - Tashkent (Cadet) - Men's Sabre - 42
2022
Commonwealth Fencing Championships 2022 - Senior - Men's Sabre - 8
2022
Commonwealth Fencing Championships 2022 - Junior - Men's Sabre - 18
2022
Commonwealth Fencing Championships 2022 - Cadet - Men's Sabre - 6
2022
Championnats du monde juniors-cadets - CHM - Dubai (Cadet) - Men's Sabre - 87
2022
Championnats du monde juniors-cadets - CHM - Dubai (Junior) - Men's Sabre - 136
National Results
2023
AFC #5 - Men's Sabre - 5
2023
AFC #4 - Men's Sabre - 10
2023
AFC #3 - Men's Sabre -
Bronze
2023
Nationals U15 - Men's Sabre -
Gold
2023
National Cadets - Men's Sabre -
Bronze
2023
AFC #2 - Men's Sabre - 10
2023
Australian Youth Circuit #2 - Men's Sabre -
Silver
2023
AFC #1 - Men's Sabre - 5
2023
Australian Youth Circuit #1 - Men's Sabre -
Bronze
2023
National Juniors - Men's Sabre - 9
2022
National Opens - Men's Sabre - 7
2022
Australian Youth Circuit Final - Men's Sabre -
Bronze
2022
AFC #4 - Men's Sabre - 6
2022
Nationals U15 - Men's Sabre -
Gold
2022
National Cadets - Men's Sabre -
Bronze
2022
National Juniors - Men's Sabre - 10
2022
Australian Youth Circuit #2 - Men's Sabre -
Silver
2022
AFC #2 - Men's Sabre - 15
2022
AFC #1 - Men's Sabre - 11
2022
Australian Youth Circuit #1 - Men's Sabre -
Silver
2021
National Cadets - Men's Sabre - 8
2021
Nationals U15 - Men's Sabre -
Bronze
State Results
2022
NSW State Opens Championships - Men's Sabre - 5
2022
NSW State Cadet Championships - Men's Sabre -
Silver
2022
NSW State Under 15s Championships - Men's Sabre -
Silver
2022
NSW State Junior Championships - Men's Sabre - 9