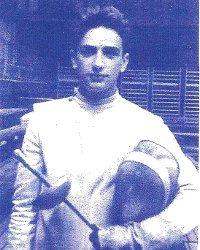 City of Residence:
Townsville
When and Why they started fencing:
In 1952 Romania wanted to form an Olympic Modern Pentathlon Team,with the aim to compete in the 1956 Melbourne Olympics.
Cornel entered the National Triathlon Competition(swim,run,rifle shoot)and won the event.
Whilst he was completing his University Degree in Sport Medicine,
he continued training for M.Pentathlon.In 1954 he won the first Romanian Pentathlon Championship. In 1956 Cornel competed in Melbourne in the Games. The team(3 members)finished in the 6th place overall. Cornel finished in the 14th place,and had the honour to win the fencing event(29 V.and 1,111pts.)out of 34 possible bouts.His result has become the longest record in the history of Modern Olympic Games. 1956-2012
National Results
1957
National Opens - Men's Epee -
Gold
Coach
Coached By
Coaches
2002 - 2010
MEDDINGS, Jonathan
1996 - 1997
BARCHIESI, Matteo
Clubs
2011 - Current
North Queensland Fencing
2005 - 2010
Cornel Vena Fencing Club
1994 - 2004
James Cook Uni Fencing Club
1957 - 1990
Melbourne V.R.I.