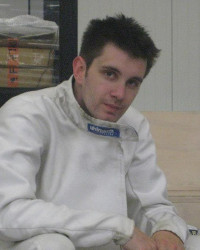 When and Where Born:
1990
City of Residence:
Melbourne
When and Why they started fencing:
My parents have always fenced, so I've been around the community since I was born. I dabbled a bit during high school, but only in between footy and cricket seasons. When I finished school, I decided to take it more seriously because I realised my dream of wearing the baggy green was probably not going to eventuate, so I donned the baggy whites instead and have never looked back.
National Results
2014
AFC #2 - Men's Epee - 13
2014
AFC #1 - Men's Epee - 29
2013
National Opens - Men's Epee -
Silver
2012
National Opens - Men's Epee -
Bronze
2012
D.H. McKenzie (AFC #1) - Men's Epee -
Bronze
2010
D.H. McKenzie (AFC #1) - Men's Foil - 6
2010
National Opens - Men's Foil - 5