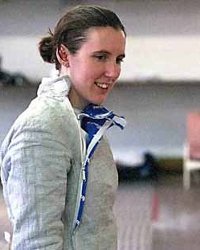 When and Where Born:
1978
City of Residence:
Melbourne
When and Why they started fencing:
Initally tried fencing as a 7 Year Old. I could hear my neighbour giving lessons on his back porch and got very curious. I found the equipment too heavy and stopped, but my brother kept going. I started again as a 10 year old and never looked back!
International Results
2006
Challenge Australia - GP - Sydney (Senior) - Women's Epee - 47
2006
Commonwealth Fencing Championships - Member, Women's Epee Team - 10
2006
Commonwealth Fencing Championships (Belfast, NI) - Women's Epee -
Silver
2006
Commonwealth Fencing Championships (Belfast NI) - Women's Foil - 22
2005
Challenge Australia - A - Sydney (Senior) - Women's Epee - 20
2005
Australian and Oceania Championships - Women's Epee -
Gold
1995
Cadet World Championships (Paris, FRA) - Women's Epee - 52
1995
Junior World Championships (Paris, FRA) - Women's Epee - 70
1994
Junior World Championships (Mexico City, MEX) - Women's Epee - 62
1993
Represented Australia in Epee at 3 Cadet and Junior World Fencing Championships - Women's Epee
National Results
2005
AFC #1 - Women's Foil -
Gold
2005
National Opens - Women's Epee -
Gold
2004
AFC #1 - Women's Epee -
Gold
2003
National Opens - Women's Foil -
Gold
2003
National Opens - Women's Epee - 5
1996
National Juniors - Women's Epee -
Gold
1995
National Juniors - Women's Epee -
Gold
1994
National Juniors - Women's Epee -
Gold
Coach
Coached By
2001 - Current
MOK, David
1996 - 1998
DINSDALE, Peter
1988 - 1992
SANTANGELO, Angelo
Coaches
2013 - Current
WILLIAMS, Dean
2010 - Current
WHIFFIN, Noah
2007 - Current
CUDDY, Alice
2006 - Current
MAROTTA, Emily
Clubs
1996 - Current
VRI Fencing Club, Melbourne
1992 - 1995
Macquarie University FC and UTS
1988 - 1992
Fencing Academy of Arms, Chatswood