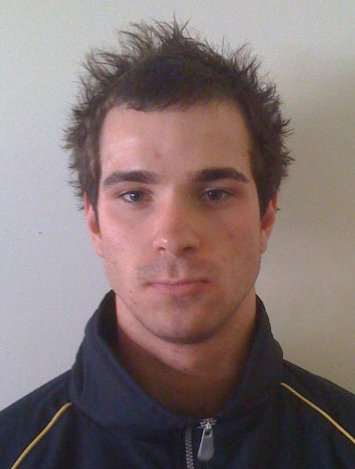 When and Where Born:
1990
City of Residence:
Fremantle, Australia
When and Why they started fencing:
In 1997, my mother found a pamphlet about fencing suggesting we come down and try it. I was always into swords and swordfighting and was interested in fighting movies, especially StarWars (I even had a StarWars painted room - it was so cool!). I started progessing through the age categories and as I matured I began to enjoy it more and more.
International Results
2016
Championnats asiatiques * - CHZ - Wuxi (Open) - Men's Sabre - 38
2016
Grand Prix - GP - Seoul (Open) - Men's Sabre - 124
2016
Sabre de Wolodyjowski - A - Varsovie (Open) - Men's Sabre - 166
2015
Championnats du Monde - CHM - Moscou (Open) - Men's Sabre - 114
2015
Championnats asiatiques - CHZ - Singapore (Open) - Men's Sabre - 37
2015
Moscow saber Grand Prix - GP - Moscou (Open) - Men's Sabre - 153
2015
Grand Prix - GP - Seoul (Senior) - Men's Sabre - 136
2015
Sabre de Wolodyjowski - A - Varsovie (Senior) - Men's Sabre - 112
2015
Sabre de Wolodyjowski - A - Varsovie (Open) - Men's Sabre - 112
2015
Trophee Luxardo - A - Padoue (Senior) - Men's Sabre - 166
2015
Troph?e Luxardo - A - Padoue (Open) - Men's Sabre - 166
2013
Championnats du Monde - CHM - Budapest (Senior) - Men's Sabre - 112
2013
Championnats asiatiques - CHZ - Shanghai (Senior) - Men's Sabre - 38
2012
Championnats asiatiques - CHZ - Wakayama (Senior) - Men's Sabre - 41
2012
Sabre de Moscou - A - Moscou (Senior) - Men's Sabre - 102
2012
Gerevich-Kovacs-Karpati Grand Prix for the Mol Cup - GP - Budapest (Senior) - Men's Sabre - 116
2012
Trophée Luxardo - A - Padoue (Senior) - Men's Sabre - 142
2012
Tournoi satellite sabre masculin - SA - Orebro (Senior) - Men's Sabre - 7
2012
Glaive D?Asparoukh - GP - Plovdiv (Senior) - Men's Sabre - 118
2011
Championnats du Monde - CHM - Catania (Senior) - Men's Sabre - 105
2011
Asian Fencing Championships - Men's Sabre - 17
2011
Villa de Madrid - A - Madrid (Senior) - Men's Sabre - 167
2011
Coupe Akropolis - A - Athènes (Senior) - Men's Sabre - 177
2010
Championnats du Monde - CHM - Paris (Senior) - Men's Sabre - 83
2010
Aisian Fencing Championships - Seoul - Men's Sabre - 33
2010
Commonwealth Fencing Championships - Melbourne - Men's Sabre - 8
2010
Champ du monde juniors-cadets - CHM - Baku (Junior) - Men's Sabre - 69
2010
World Cup - Pattaya City - Men's Sabre - 8
2009
Champ du monde juniors-cadets - CHM - Belfast (Junior) - Men's Sabre - 79
2009
Junior World Cup - Logrono - Men's Sabre - 45
2009
Allstar Pokal - A - Künzelsau (Junior) - Men's Sabre - 91
2009
Coupe Heracles Junior - A - Budapest (Junior) - Men's Sabre - 91
2009
Asian Junior Fencing Championships - Men's Sabre - 19
2009
Commonwealth Junior Fencing Championships - Men's Sabre -
Bronze
2009
Asian Senior Fencing Championships - Men's Sabre - 29
2008
Alpe Adria - A - Lignano Sabbiadoro (Junior) - Men's Sabre - 54
2008
Champ du monde juniors-cadets - CHM - Acireale (Catania) (Junior) - Men's Sabre - 80
2008
Glaive D?Asparoukh - GP - Plovdiv (Senior) - Men's Sabre - 113
2008
Coupe de la Ville de Dourdan - A - Dourdan (Junior) - Men's Sabre - 119
2008
Ciudad de Logrono - A - Logrono (Junior) - Men's Sabre - 50
2008
Allstar Pokal - A - Göppingen (Junior) - Men's Sabre - 91
2008
Coupe Heracles Junior - A - Budapest (Junior) - Men's Sabre - 139
2007
Championnats asiatiques seniors - CHZ - Nantong (Senior) - Men's Sabre - 56
2007
Champ du monde juniors-cadets - CHM - Belek (Junior) - Men's Sabre - 78
2007
Ciudad de Logrono - A - Logrono (Junior) - Men's Sabre - 61
2007
Junior World Cup - Montreal - Men's Sabre - 37
2006
Junior World Cup - Men's Sabre - 46
2006
Allstar Pokal - A - Göppingen (Junior) - Men's Sabre - 98
2006
Coupe Heracles Junior - A - Budapest (Junior) - Men's Sabre - 124
National Results
2015
National Opens - Men's Sabre -
Bronze
2015
AFC #3 - Men's Sabre - 6
2015
AFC #2 - Men's Sabre -
Gold
2015
AFC #1 - Men's Sabre - 5
2014
AFC #3 - Men's Sabre - 6
2014
AFC #2 - Men's Sabre -
Silver
2014
National Opens - Men's Sabre -
Silver
2013
D.H. McKenzie (AFC #1) - Men's Sabre -
Gold
2012
D.H. McKenzie (AFC #1) - Men's Sabre -
Gold
2012
National Opens - Men's Sabre -
Gold
2011
R. Chaplin (AFC #2) - Men's Sabre -
Gold
2011
AFC #3 - Men's Sabre -
Gold
2011
R. Chaplin (AFC #2) - Men's Sabre -
Gold
2011
AFC #3 - Men's Sabre -
Gold
2011
D.H. McKenzie (AFC #1) - Men's Sabre -
Bronze
2010
D.H. McKenzie (AFC #1) - Men's Sabre -
Gold
2010
National Opens - Men's Sabre -
Gold
2010
AFC #3 - Men's Sabre -
Gold
2010
National Juniors - Men's Sabre -
Gold
2008
National Juniors - Men's Sabre -
Gold
2007
National Cadets - Men's Sabre -
Gold
2006
National Cadets - Men's Sabre -
Gold
Coach
Coached By
2014 - 2016
Davies, Malcolm
2010
SIGNORELLO, Antonino
2003 - 2006
KOCSIS, Frank
Clubs
2010
University of NSW Fencing Club
2000 - 2009
Excalibur Community Fencing Club
1997 - 1999
Notre Dame Knights