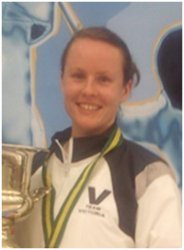 When and Where Born:
1985
City of Residence:
Newport, Australia
When and Why they started fencing:
I started fencing in 1993 at the Williamstown Fencing Club when I was nine years old. My first coach was Sue Shahin who introduced me to the foil and gave me individual lessons for about one year. I moved to Helen Smith who was foil my coach for six years until I changed to sabre, and Pieter Leeuwenburgh, in 2002. Helen continues to fill the role of mentor.
My mum first considered the sport of fencing because she thought it suited my personality. She also wanted to find a sport that promoted self-discipline and would provide a sound environment for the development of responsibility, independence and sportsmanship.
International Results
2012
Championnats asiatiques - CHZ - Wakayama (Senior) - Women's Sabre - 24
2012
Coupe du Monde - GP - Moscou (Senior) - Women's Sabre - 79
2012
England Trophy - A - Londres (Senior) - Women's Sabre - 128
2012
Troph?e BNP-Paribas - GP - Orl?ans (Senior) - Women's Sabre - 39
2011
Championnats du Monde - CHM - Catania (Senior) - Women's Sabre - 93
2011
Championnats asiatiques - CHZ - S?oul (Senior) - Women's Sabre - 28
2011
Cole Cup - SA - Newcastle (Senior) - Women's Sabre - 5
2011
Challenge Yves Brasseur - A - Gand (Senior) - Women's Sabre - 129
2011
Coupe du Monde - A - Bologne (Senior) - Women's Sabre - 143
2011
England Cup - A - Londres (Senior) - Women's Sabre - 126
2011
Troph?e BNP-Paribas - GP - Orl?ans (Senior) - Women's Sabre - 100
2010
Championnats du Monde - CHM - Paris (Senior) - Women's Sabre - 95
2010
Commonwealth Fencing Championships - Melbourne - Women's Sabre - 13
2009
Coupe du Monde - GP - Tianjin (Senior) - Women's Sabre - 82
2006
Grand Prix - GP - Hanoi (Senior) - Women's Sabre - 70
2006
Tournoi international - A - Lamezia Terme (Senior) - Women's Sabre - 66
2006
England Cup - A - Londres (Senior) - Women's Sabre - 58
2006
Coupe du Monde - GP - Budapest (Senior) - Women's Sabre - 107
2005
World Junior Championships - Women's Sabre - 61
2005
S?dwestbank-Pokal - A - G?ppingen (Junior) - Women's Sabre - 55
2004
Champ du monde juniors-cadets - CHM - Plovdiv (Junior) - Women's Sabre - 35
2002
Commonwealth Fencing Championships - Member, Women's Sabre Team -
Silver
National Results
2010
R. Chaplin (AFC #2) - Women's Sabre -
Gold
2009
National Opens - Women's Sabre -
Gold
2004
National Juniors - Women's Sabre -
Gold
2002
National Juniors - Women's Sabre -
Gold
2001
National Cadets - Women's Foil -
Gold
2001
National Juniors - Women's Sabre -
Gold
Coach
Coached By
2002
LEEUWENBURGH, Pieter
Clubs
2000 - 2002
Brunswick Dragons Fencing Club
(previously Williamstown Fencing Club)
1994 - 1999
Williamstown Fencing Club