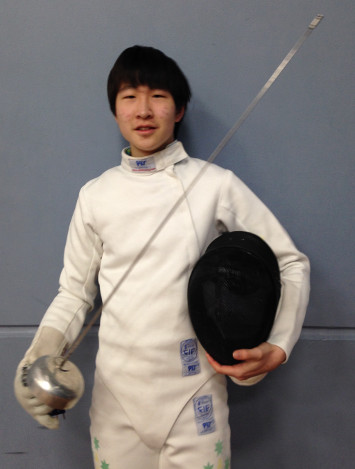 When and Where Born:
1999
City of Residence:
Sydney
When and Why they started fencing:
I was introduced to fencing halfway through 2012 while I was at Sydney Boys High School. From there, I chose epee. I went ahead to win my first epee comp and decided to continue with it. I have had a wonderful time fencing and making friends. I appreciate fencing for experiencing new opportunities, visiting new places and meeting new people.
International Results
2018
Coupe du Monde - A - Heraklion (Junior) - Men's Epee - 149
2018
Coupe du Monde * - A - Luxembourg (Junior) - Men's Epee - 133
2018
Coupe du Monde - A - ?abac (Junior) - Men's Epee - 101
2018
Heidenheimer Pokal - A - Heidenheim (Open) - Men's Epee - 266
2018
U23 European Circuit - White Bear - Berlin - Men's Epee - 112
2018
Alpe Adria - A - Udine (Junior) - Men's Epee - 138
2016
SEA Pacific Fencing Championships - Passig City (Junior) - Men's Epee - 5
2016
SEA Pacific Fencing Championships - Passig City (Cadet) - Men's Epee - 11
2016
Troph?e Ma?tre Roger Nigon - A - B?le (Junior) - Men's Epee - 180
2016
Wawel Dragon Trophy EFC Cadet Circuit - Krakow - 76
2015
Commonwealth Junior Championships - Cape Town - Men's Epee - 35
2015
Commonwealth Cadet Championships - Cape Town - Men's Epee - 14
2015
22nd JOC Junior Olympic Cup - Men's Epee - 54
2015
22nd JOC Cadet Olympic Cup - Men's Epee - 20
2013
Oceania Cadet championships - Men's Epee - 5
National Results
2019
National Opens - Men's Epee - 40
2019
AFC #1 - Men's Epee - 59
2019
Nationals Under 23 - Men's Epee - 19
2019
National Juniors - Men's Epee - 10
2018
National Opens - Men's Epee - 15
2018
AFC #4 - Men's Epee - 36
2018
AFC #2 - Men's Epee - 14
2018
AFC #1 - Men's Epee - 24
2018
Nationals Under 23 - Men's Epee - 10
2018
National Juniors - Men's Epee - 10
2017
National Opens - Men's Epee - 29
2017
AFC #3 - Men's Epee - 28
2017
AFC #2 - Men's Epee - 8
2016
National Opens - Men's Epee - 8
2016
National Cadets - Men's Epee -
Bronze
2016
AFC #2 - Men's Epee - 15
2016
AFC #1 - Men's Epee - 18
2016
Nationals Under 23 - Men's Epee - 5
2015
National Opens - Men's Epee - 29
2015
National Juniors - Men's Epee - 26
2015
National Cadets - Men's Epee - 17
2015
AFC #2 - Men's Epee - 33
2015
Nationals Under 23 - Men's Epee - 21
2015
AFC #1 - Men's Epee - 49
2014
National Opens - Men's Epee - 56
2014
Nationals Under 23 - Men's Epee - 15
2014
National Juniors - Men's Epee - 20
2014
Schools Teams Championships - Member, Men's Epee Team -
Silver
2014
National Cadets - Men's Epee - 6
2014
Nationals U15 - Men's Epee - 13
2014
School Fencer Championships - Men's Epee -
Gold
2013
School Fencer Championships - Men's Epee -
Gold
2013
National Opens - Member, Men's Epee Team - 7
2013
National Opens - Men's Epee - 47
Coach
Coached By
2014 - Current
SIGNORELLO, Antonino
Clubs
2012 - Current
UNSW Fencing Club