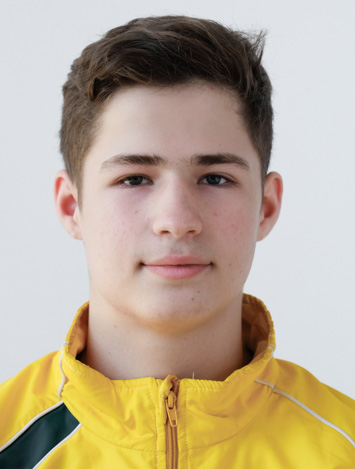 When and Where Born:
2003
City of Residence:
Adelaide, Australia
When and Why they started fencing:
I started in 2010 in Singapore.
While leaving from a birthday party at Turf City, Singapore, I saw two guys in a sport room with swords and masks pointing at each other. I asked my mum the name of the sport. She said "Esgrima" (her mother tongue is Spanish so she looked for the translation in English: "Fencing" she said so I said that I wanted to do fencing and she helped me to find a club in Singapore.
International Results
2020
Coupe du Monde - A - Udine (Junior) - Men's Foil - 163
2019
Oceania Cadet Championshps - Men's Foil -
Bronze
2018
Asian Cadet Circuit - Pasig City - Men's Foil - 6
2017
Oceania Cadet Championship - New Caledonia - Men's Foil - 5
National Results
2020
National Juniors - Men's Foil - 19
2019
National Opens - Men's Foil - 20
2019
AFC #4 - Men's Foil - 18
2019
AFC #3 - Men's Foil - 8
2019
National Cadets - Men's Foil - 5
2019
National Juniors - Men's Foil - 17
2018
AFC #4 - Men's Foil - 37
2018
AFC #3 - Men's Foil - 10
2018
National Cadets - Men's Foil - 6
2018
Nationals U15 - Men's Foil -
Gold
2018
Nationals Under 23 - Men's Foil - 11
2018
AFC #2 - Men's Foil - 23
2018
AFC #1 - Men's Foil - 15
2018
National Juniors - Men's Foil - 6
2017
National Opens - Men's Foil - 31
2017
Nationals U15 - Men's Foil -
Bronze
2017
National Cadets - Men's Foil - 23
2017
Nationals Under 23 - Men's Foil - 16
2016
National Cadets - Men's Foil - 57
2016
Nationals U15 - Men's Foil - 20
2015
National Cadets - Men's Foil - 57
2015
Nationals U15 - Men's Foil - 22
2014
Nationals U15 - Men's Foil - 34
Coach
Coached By
2010 - 2013
Li, Jing (Singapore)