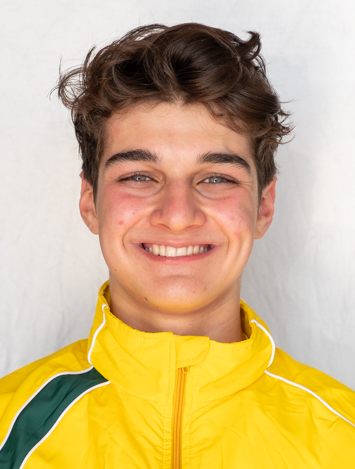 When and Where Born:
2001
City of Residence:
Sydney, NSW, Australia
When and Why they started fencing:
I started fencing when I was 6. I was visiting my cousin whose best friend was the then President of my Fencing Club and he suggested I give it a try. I've loved it ever since.
International Results
2022
Commonwealth Fencing Championships 2022 - Senior - Men's Foil - 23
2022
Championnat du monde - CHM - Le Caire (Open) - Men's Foil - 119
2022
Championnats Asiatiques - CHZ - Seoul (Open) - Men's Foil - 19
2018
JOJ 2018 - NF - Buenos Aires (Cadet) - Men's Foil - 12
2018
Championnats du monde juniors-cadets - CHM - Verona (Cadet) - Men's Foil - 48
2018
Championnats du monde juniors-cadets - CHM - Verona (Junior) - Men's Foil - 154
2018
Championnats Asiatiques juniors * - CHZ - Dubai (Junior) - Men's Foil - 13
2018
Asian Junior & Cadet Championships - Dubai (Cadet) - Men's Foil - 11
2018
European Cadet Circuit - Rome - Men's Foil - 169
2018
European Cadet Circuit - Bratislava - Men's Foil - 137
2018
Coupe du Monde - A - Udine (Junior) - Men's Foil - 162
2017
Oceania Senior Championships - Auckland - Men's Foil - 9
2017
SE Asia & Pacific Cadet Championship (Cadet) - Men's Foil - 15
National Results
2022
National Opens - Men's Foil - 5
2022
AFC #4 - Men's Foil -
Bronze
2022
R. Chaplin (AFC #2) - Men's Foil - 12
2022
D.H. McKenzie (AFC #1) - Men's Foil - 7
2021
National Opens - Men's Foil - 14
2021
R. Chaplin (AFC #2) - Men's Foil -
Silver
2021
D.H. McKenzie (AFC #1) - Men's Foil - 6
2020
National Juniors - Men's Foil - 11
2019
AFC #4 - Men's Foil - 13
2019
Nationals Under 23 - Men's Foil -
Bronze
2019
R. Chaplin (AFC #2) - Men's Foil - 7
2019
National Juniors - Men's Foil - 9
2018
AFC #4 - Men's Foil - 13
2018
AFC #3 - Men's Foil - 12
2018
National Cadets - Men's Foil - 16
2018
Nationals Under 23 - Men's Foil - 6
2018
R. Chaplin (AFC #2) - Men's Foil - 17
2017
National Opens - Men's Foil - 17
2017
National Juniors - Men's Foil - 13
2017
AFC #3 - Men's Foil - 29
2017
National Cadets - Men's Foil - 20
2017
R. Chaplin (AFC #2) - Men's Foil - 20
2017
Nationals Under 23 - Men's Foil - 15
2017
D.H. McKenzie (AFC #1) - Men's Foil - 38
2016
National Opens - Men's Foil - 66
2016
National Cadets - Men's Foil - 52
2016
Nationals U15 - Men's Foil - 15
2015
National Opens - Men's Foil - 29
2015
National Cadets - Men's Foil - 46
2015
Nationals U15 - Men's Foil - 20
2014
National Cadets - Men's Foil - 55
2014
Nationals U15 - Men's Foil - 30
2014
National Opens - Men's Foil - 26
State Results
2022
NSW State Opens Championships - Men's Foil -
Silver
Coach
Coached By
2010 - Current
SIGNORELLO, Antonio
2008 - Current
Salemi, Sam
Clubs
2008 - Current
Marconi Fencing Academy