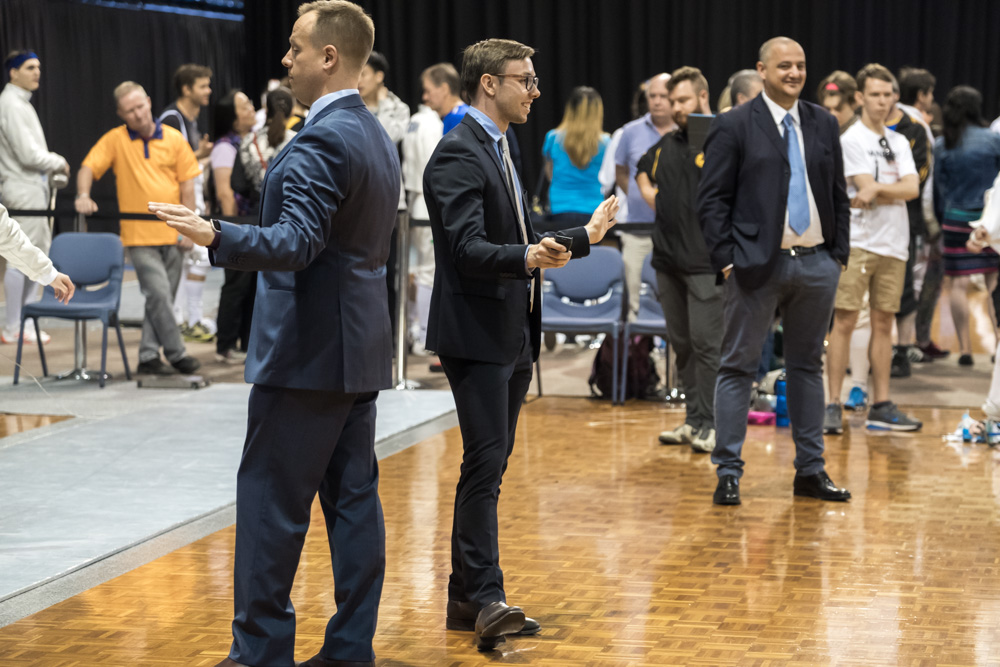 AFF implements new approach to referee management
The AFF is pleased to announce a new approach to managing the appointment of Australian referees at national tournaments. The new system will be implemented for the first time at the Robyn Chaplin Tournament (AFC#2) in Adelaide in June.
We have appointed Mr Emanuele Bucca from the Italian Fencing Federation as the Referee Director. Emanuale will provide mentoring and feedback to Australian referees, including immediate video analysis of their performance. Emanuele is an FIE 'B' accredited (foil and sabre) referee, whose most recent tournaments include the Cadet & Junior World Championships in Verona and the Men's Sabre World Cup in Algeria (November 2017). Emanuele attended the 2017 Australian Open and Veteran Fencing Championships in Canberra last December as our international guest referee, where he had the opportunity to engage with many of our leading referees.
We are delighted that an international referee of Emanuele's calibre has agreed to contribute his expertise and enthusiasm to the ongoing development of Australia's referees. We are conscious that regular exposure to the current application of the rules and the phrasing of fencing actions is critical to ensuring the future success of our fencers on the international stage.
We will continue our current approach of inviting an FIE accredited international referee to each AFC open event. Where Emanuele is unable to attend, he will assist in identifying an appropriate referee, to ensure continuity in the ongoing mentoring and education process.
The guest referee for the Robyn Chaplin Tournament (AFC#2) is Miss Nunta Chantasuvannasin from Thailand. Nunta holds an FIE B Licence in all three weapons and refereed at the 2018 Cadet & Junior World Championships. She has been appointed as a reserve for the 2018 Senior World Championships and the 2018 Youth Olympic Games.
We are also delighted to announce the appointment of three of Australia's most talented and experienced referees – Samantha Auty, Lucas Webber and Michael Nelson –as AFF Senior Referees. Sam, Lucas and Michael will share responsibility for the bout by bout allocation of referees during each AFC event. The appointment of Sam, Lucas and Michael recognises the commitment and dedication they have shown to developing their own refereeing skills and mentoring others.
The AFF Operations Manager Caitlin Fox-Harding will support Emanuele and our refereeing team, by managing referee nominations and scheduling prior to each event.
Our new approach to referee management has been adopted following the recent resignation of National Officiating Manager Peter Creese for personal reasons. Peter has fulfilled this role for a number of years and we thank him for his contribution.
Never miss an announcement
Subscribe to receive AFF news via email