Australian Fencing Circuit (AFC) #3
September 30, 2022 - October 2, 2022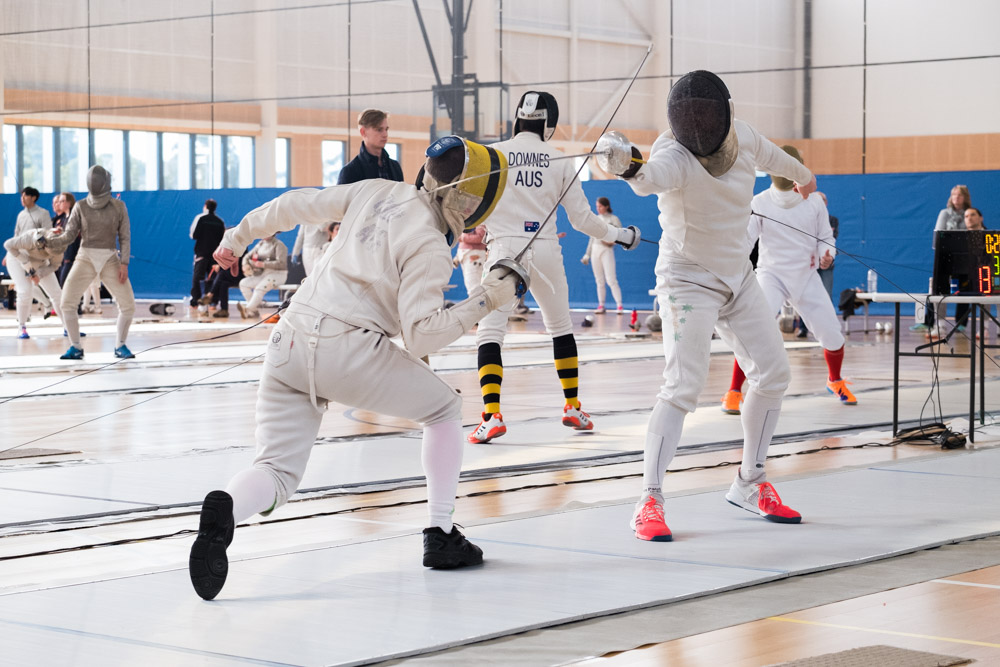 Tournament Schedule
Thursday – 29th September
Equipment Control will be open from 17:00 – 19:00
Friday – 30th September
Equipment Control will be open 08:00-09:30, 12:00-14:00, 14:30-16:30
09:00      Open Men's Epee
Open Men's Epee Club Teams (following individual event)
09:30      Open Women's Sabre
Open Women's Sabre Club Teams (following individual event)
13:00      Veteran Women's Epee
14:00      Veteran Men's Epee
Saturday – 1st October
Equipment Control will be open 08:00-09:30, 12:00-13:00, 14:30-16:30
09:00      Open Men's Foil
Open Men's Foil Club teams (following individual event)
09:30      Open Women's Epee
Open Women's Epee Club Teams (following individual event)
13:00      Veteran Mixed Sabre
Sunday – 2nd October
Equipment Control will be open 08:00-09:00, 10:00-11:00, 12:00-13:00
09:00      Open Women's Foil
Open Women's Foil Club Teams (following individual event)
11:00      Open Men's Sabre
Open Men's Sabre Club Teams (following individual event)
13:00      Veteran Mixed Foil
Additional information
Entries for Club Teams
Entries for Club Teams can be made via Club teams Entries
Acknowledging the Whadjuk Nyoongar people
The Australian Fencing Federation acknowledges the traditional custodians of the land where this tournament is being held, and pays respect to ancestors and Elders, past, present and emerging.
Registrations open:  
August 6, 2022
Standard registrations close:  
September 17, 2022
Registrations are accepted after the close of standard registrations however late fees apply. 
All registrations close 4:00pm AEDT on: 
September 28, 2022
No registrations will be accepted after this time.
Fees and charges:
Note, some states may add a state levy to cover team management and other state-related costs. These levies are in addition to AFF tournament charges and are collected at the time of registration. Please check your state association website for more information.
| | | |
| --- | --- | --- |
| AFC 1-4 Open / U23 / Veteran | $110 | Competitors can choose to pay additional $80 to opt out of refereeing obligations. |
| National Championships Open and Veterans | $120 | Competitors can choose to pay additional $90 to opt out of refereeing obligations. |
| Veterans second weapon | $25 | Competitors can choose to pay additional $90 to opt out of refereeing obligations. |
| Veterans third weapon | $0 | Competitors can choose to pay additional $90 to opt out of refereeing obligations. |
| U15 / Cadet / Junior Championships | $130 | Where fencers compete in three weapons in same age group, 3rd weapon is $80. |
| Australian Youth Circuit events #1,#2,#3 first weapon | $70 | Includes $30 referee levy |
| Australian Youth Circuit events #1,#2,#3 second and third weapons | $60 | Includes $30 referee levy |
| National School Individual Championships | $95 | Competing in 2nd and 3rd weapon - $70 each. Includes $20 referee Levy. |
| Additional late fee applies to all registrations except veteran entries | $100 | |
Add this event to your personal calendar: